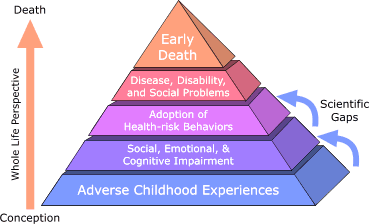 New ACE Collaborative in Northern California
-
Tuesday, April 02, 2019
ACE stands for Adverse Childhood Experience. ACEs are linked to poor and declining quality of life as children move into adulthood. Northern California's children are subject to more ACEs than children in other parts of California.
A newly funded ACE Collaborative here in the North State is a partnership between a number of institutions that want to significantly reduce instances of ACEs. Public Health Institute, a California-based nonprofit that manages hundreds of state and national projects will support the ACE Collaborative through their Population Health Innovation Lab (PHIL) and a $400,000 grant from the Blue Shield of California Foundation.
According to Blue Shield of California, participating entities in the ACE Collaborative are Butte, Tehama and Trinity County's First 5 organizations and partners that promote early childhood development. Also committed to join the project are the Health and Human Services agencies of Glenn. Shasta, and Trinity counties among other education and health policy institutions. The ACE Collaborative also plans to connect with probation; people from the justice system, mental health, behavioral health, and health plans.
Butte County Office of Education's Heather Senske, Director of Child Development Programs and Services, and Sandra Azevedo, Coordinator, Continuous Improvement, are a part of this collaborative.
The ACE Collaborative will outline key social determinants of violence that the ACE Collaborative can address and thereby begin to reduce the factors that contribute to domestic violence and adverse childhood experiences.
***
For more about the Ace Collaborative, contact: Lisa Tadlock, Program Manager, Public Health Institute, Population Health Innovation Lab, Northern California ACEs Collaborative, at Lisa.Tadlock@phi.org or 530.526.2854
For more about the Blue Shield of California's recent, collaborative initiatives targeting domestic violence and related ACEs, visit:
https://blueshieldcafoundation.org/leveraging-collaboration-to-end-domestic-violence-2018-grantees
and
https://news.blueshieldca.com/2019/04/01/domestic-violence-in-northern-california-targeted-by-blue-shield-foundation-grant