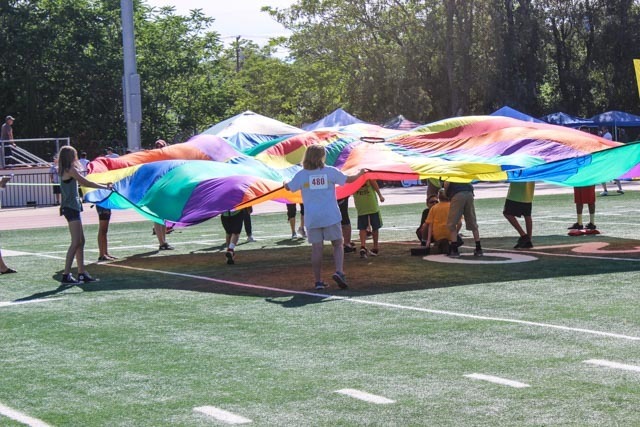 Butte County Office of Education Special Education Track and Field Meet May 3, 2019
BCOE and Kiwanis of Oroville
Monday, April 29, 2019
The Butte County Adapted Physical Education Specialists, in coordination with Butte County Office of Education (BCOE) and Kiwanis of Oroville, will hold its annual School Site Track and Field Meet from 10 a.m. to 1 p.m. Friday, May 3, 2019 at Harrison Stadium in Oroville, CA. Approximately 625 students with special needs, Kindergarten to age 22, from Butte and Nevada Counties are expected to participate in the event.
The student athletes, peer buddies, and volunteers have an amazing day of competition, community, and camaraderie. Athletes are so excited about this springtime event that they start asking about it as soon as they start school in the Fall! "I get to race people and meet new friends," one participant recently exclaimed.
The track meet, an annual collaborative event, is also a service learning opportunity for students attending local middle schools, high schools, Butte College and Chico State. These students work along with trained volunteers and coaches, peer buddies, faculty, family and friends to host this event for students with disabilities in an athletic and active environment. "This event provides a lot of opportunities for students, parents, volunteers and community members to see the abilities and potential of all participants and to look beyond disability", says Butte County Office of Education's Adapted PE Specialist, Cami Anderson.
The BCOE Special Education School Site Track and Field Meet is free of charge for all participants thanks to the generous donations and support of Butte County Office of Education, Kiwanis of Oroville, Special Olympics Butte County, and the fundraising efforts of the Disability Sport and Recreation Fund through North Valley Community Foundation.
# # #
Contact
Cami Anderson- 530-514-4482 canderso@bcoe.org
Best time to see athletes in action: 10:15 a.m. – 12:00 p.m.
To Volunteer or participate in the track meet contact:
Cami Anderson-530-532-5740 ext. 108 or canderso@bcoe.org
To Volunteer or Participate in Special Olympics of Butte County: To learn more about joining Special Olympics as an athlete or volunteer please contact Sue Barlow, Special Oly