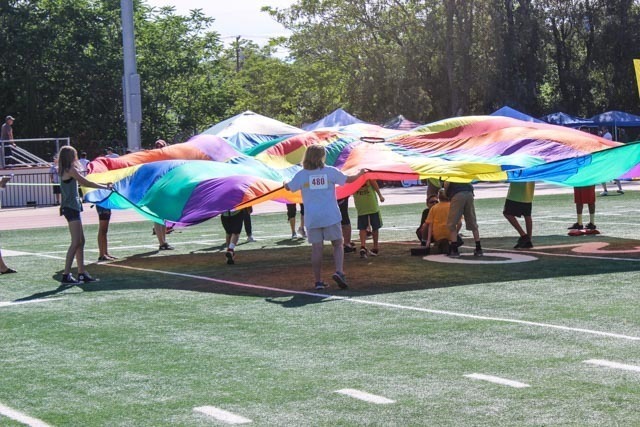 Special Olympics make for a special day in Oroville
Robin Epley / Chico Enterprise-Record
Wednesday, May 08, 2019
OROVILLE — Big leaps, big runs and big smiles were the order of the day Friday at the 19th annual Special Olympics School Site Track Meet at Harrison Stadium in Oroville.
More than 650 young athletes with special needs gathered at the stadium — along with their teachers, family and friends — to participate in traditional track and field events like metered dashes, hurdles, javelin and long jumps — alongside fun, low-stress group games like parachute tosses, and water and ball games.
"It's about physical education," said Debbie Roth, a lecturer at Chico State in the Kinesiology Department, and also the driving force behind bringing the Special Olympics to Butte County schools nearly 20 years ago.
She said 2019 was the largest year the program has ever had, with more than 71 classrooms from 51 different schools in two counties (Butte and Nevada).
Roth said that by engaging children in physical activity through such programs at a young age, they'll be a part of the Special Olympics family for life.
"The idea is, this is a lifelong activity," she said. "Then of course the friendships and being in a place where there's so many people just like you — you feel like you belong."
Cami Anderson, one of the coordinators of this year's event, said because the athletes have special needs, they work hard to ensure the games are all-inclusive. Sometimes that means lowering hurdles, modifying finish lines or running heats that are only for walkers or wheelchairs.
"Everything is accommodated for all different abilities," Anderson said.
Sara Mojica, an aide in a classroom at Chico High School said it's important just to let the kids have fun, "to let loose, let go."
"It gives them lots of positive reinforcement too," she said.
Alan Romo, 11, from Emma Wilson Elementary was certainly feeling the love — he and his twin brother Nain Solorio came second and first, respectively, in the 25 meter dash. Their aunt, Ana Romo said she was happy for the kids to have a day where they can feel a sense of community and belonging, and to know they're not alone.
"These kids are great and smart,' she said. "Not because they look different, should they be treated different."