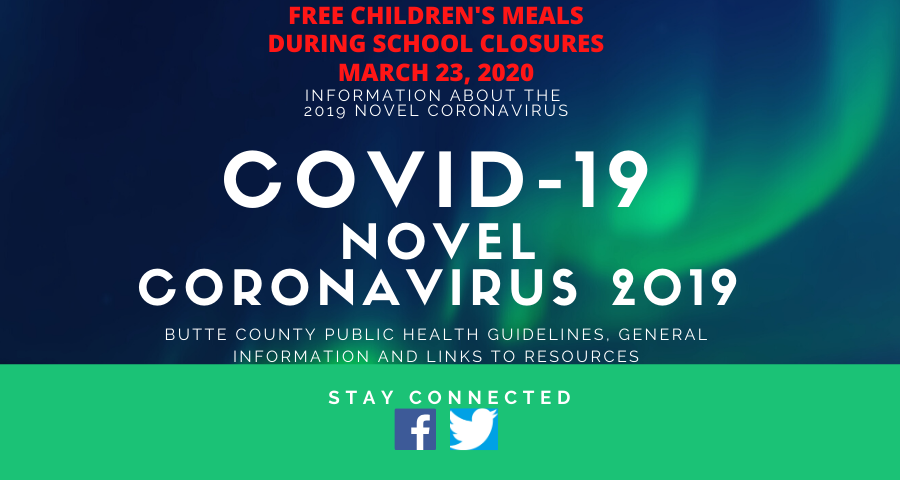 FREE CHILDREN'S MEALS DURING SCHOOL CLOSURE 3/19 – 4/17/2020
Mary Ellen Garrahy
Monday, March 23, 2020
***UPDATED MARCH 23, 2020***
PLEASE CHECK YOUR DISTRICT'S WEBSITE FOR UPDATED LOCATION INFORMATION!
(OROVILLE, CA) - In direct response to school closures as a result of the COVID-19, Butte County Office of Education is pleased to announce that during the 2-week closure, there will be an opportunity for families to pick up free "grab-and-go" meals at 26 locations throughout Butte County for children 18 and under beginning this Thursday, March 19 through Friday, April 17. Meal service dates and times will vary, please see District websites for exact information.
These meals will be available for free for anyone 18 and under regardless of what school they attend. No paperwork is required. Meals will be provided based on the number of children present.
We encourage families to continue to be proactive in reducing the risk of COVID-19 by not congregating at the meal sites and continuing to utilize social distancing. For this reason, all meals are designed to be "grab-and-go" and meals will not be consumed on-site.
Locations include:
Oroville Area:
Nelson Avenue Middle
Poplar Avenue Elementary
Sierra Avenue Elementary
Plumas Avenue Elementary
Spring Valley Elementary
Concow Elementary
Berry Creek Elementary
Las Plumas High School
Bird Street Elementary
Central Middle
Helen Wilcox Elementary
Palermo Middle
Bangor (Contact school)
Paradise/Magalia Area:
Paradise Ridge Elementary
Paradise Junior & Senior High
Pine Ridge School
Cedarwood Elementary
Chico Area: FREE MEALS START MARCH 23, 2020
Chapman Elementary
Citrus Elementary
Bidwell Junior High
Chico Junior High


Gridley Area:
Gridley High
Sycamore Elementary
Housing Authority of Butte County
FEMA Gridley Park
Biggs Elementary
Biggs High


Durham Area: FREE MEALS START MARCH 23, 2020
Durham High School
Foothill Mobile Home Park – Butte Valley
*For additional areas see
http://www.pusdk12.org/announc...
* If school closure dates are extended past April 17th, the school closure meal plan and service will continue until school resumes session.