2nd Annual Explorer's Faire
Arianna Sells
Tuesday, August 22, 2017
RSVP for Raffle Entry!
https://tinyurl.com/ExpFaireRSVP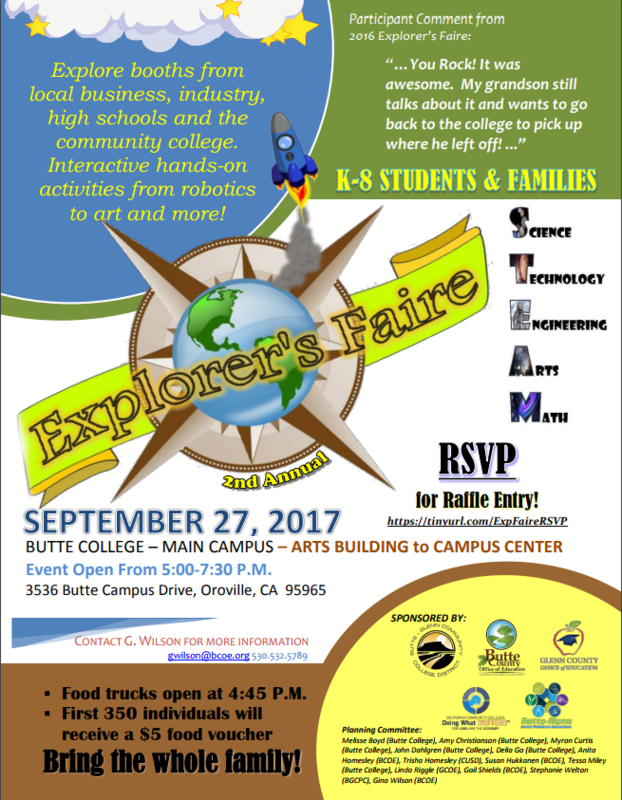 BUTTE COLLEGE – MAIN CAMPUS – ARTS BUILDING to CAMPUS CENTER
Event Open From 5:00-7:30 P.M.
3536 Butte Campus Drive, Oroville, CA 95965

CONTACT G. WILSON FOR MORE INFORMATION
gwilson@bcoe.org 530.532.5789
Participant Comment from
2016 Explorer's Faire:

"…You Rock! It was
awesome. My grandson still
talks about it and wants to go
back to the college to pick up
where he left off! ..."

Explore booths from local business, industry, high schools and the community college. Interactive hands-on activities from robotics to art and more!
. Food trucks open at 4:45 P.M.
. First 350 individuals will receive a $5 food voucher
Bring the whole family!