Academic Decathlon - Join now!
Mary Ellen Garrahy
Monday, August 28, 2017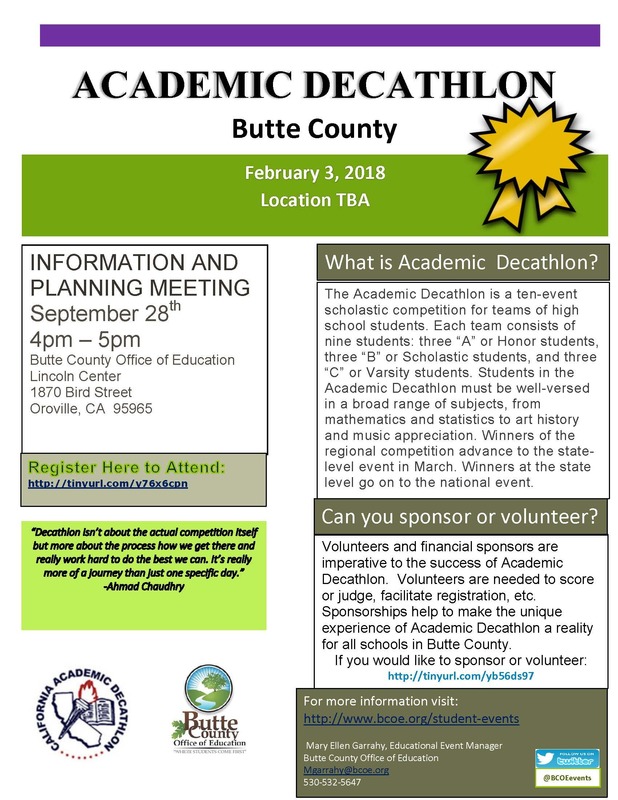 The Academic Decathlon is a ten-event
scholastic competition for teams of high
school students. Each team consists of
nine students: three "A" or Honor students,
three "B" or Scholastic students, and three
"C" or Varsity students. Students in the
Academic Decathlon must be well-versed
in a broad range of subjects, from
mathematics and statistics to art history
and music appreciation. Winners of the
regional competition advance to the state-
level event in March. Winners at the state
level go on to the national event.
ACADEMIC DECATHLON
Butte County
February 3, 2018
Location TBA
What is Academic Decathlon?
INFORMATION AND
PLANNING MEETING
September 28th
4pm – 5pm
Butte County Office of Education
Lincoln Center
Contact: Mary Ellen Garrahy
mgarrahy@bcoe.org
For updates: www.bcoe.org/student-events

Sponsor a volunteer: http://tinyurl.com/yb56ds97