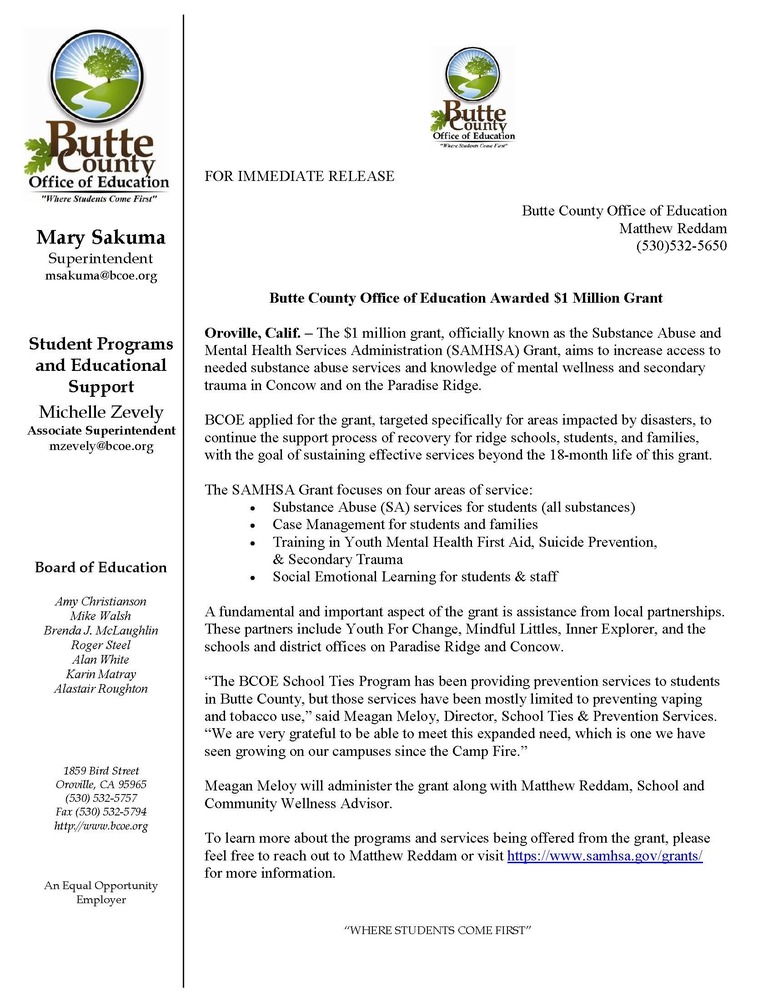 Butte County Office of Education Awarded $1 Million Grant
Ann Bates
Friday, May 08, 2020
Butte County Office of Education
Matthew Reddam (530)532-5650
Butte County Office of Education Awarded $1 Million Grant
Oroville, Calif. – The $1 million grant, officially known as the Substance Abuse and Mental Health Services Administration (SAMHSA) Grant, aims to increase access to needed substance abuse services and knowledge of mental wellness and secondary trauma in Concow and on the Paradise Ridge.
BCOE applied for the grant, targeted specifically for areas impacted by disasters, to continue the support process of recovery for ridge schools, students, and families, with the goal of sustaining effective services beyond the 18-month life of this grant.
The SAMHSA Grant focuses on four areas of service:
• Substance Abuse (SA) services for students (all substances)
• Case Management for students and families
• Training in Youth Mental Health First Aid, Suicide Prevention, & Secondary Trauma
• Social Emotional Learning for students & staff
A fundamental and important aspect of the grant is assistance from local partnerships. These
partners include Youth For Change, Mindful Littles, Inner Explorer, and the schools and district offices on Paradise Ridge and Concow.
"The BCOE School Ties Program has been providing prevention services to students in Butte County, but those services have been mostly limited to preventing vaping and tobacco use," said Meagan Meloy, Director, School Ties & Prevention Services. "We are very grateful to be able to meet this expanded need, which is one we have seen growing on our campuses since the Camp Fire."
Meagan Meloy will administer the grant along with Matthew Reddam, School and Community Wellness Advisor.
To learn more about the programs and services being offered from the grant, please feel free to reach out to Matthew Reddam or visit https://www.samhsa.gov/grants/ for more information.