Resilient Mindful Learner: Stress Management for Educators and Their Students
Contributor: Jennifer Garcia
Monday, November 06, 2017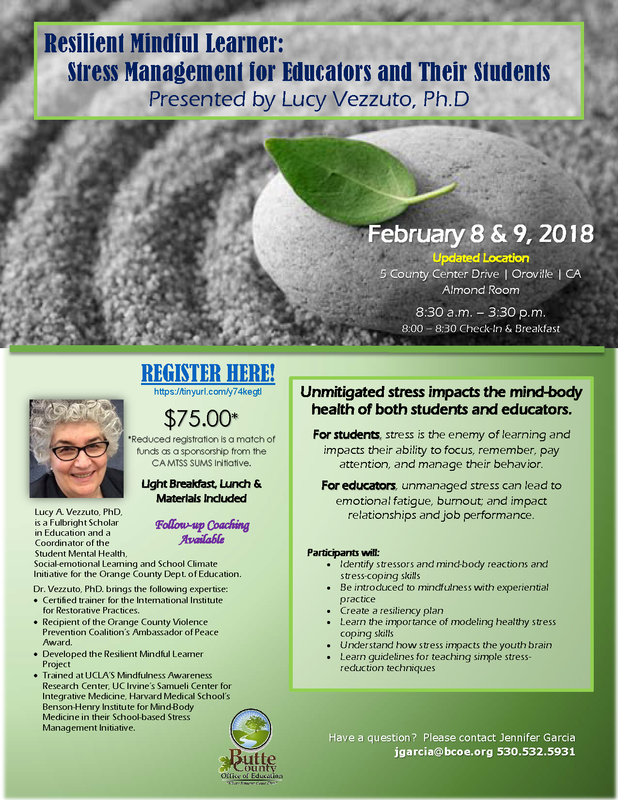 Resilient Mindful Learner: Stress Management for Educators and Their Students
Presented by Lucy Vezzuto, Ph.D
February 8 & 9, 2018
Updated Location!
5 County Center Drive | Oroville | CA Almond Room
8:30 a.m. – 3:30 p.m. 8:00 – 8:30 Check-In & Breakfast
REGISTER HERE!
$75.00*
*Reduced registration is a match of funds as a sponsorship from the CA MTSS SUMS Initiative.
Light Breakfast, Lunch & Materials Included
Dr. Vezzuto, PhD.brings the following expertise:
• Certified trainer for the International Institute for Restorative Practices. • Recipient of the Orange County Violence Prevention Coalition's Ambassador of Peace Award. • Developed the Resilient Mindful Learner Project • Trained at UCLA'S Mindfulness Awareness Research Center, UC Irvine's Samueli Center for Integrative Medicine, Harvard Medical School's Benson-Henry Institute for Mind-Body Medicine in their School-based Stress Management Initiative.
Unmitigated stress impacts the mind-body health of both students and educators.
For students, stress is the enemy of learning and impacts their ability to focus, remember, pay attention, and manage their behavior.
For educators, unmanaged stress can lead to emotional fatigue, burnout; and impact relationships and job performance.
Participants will:
• Identify stressors and mind-body reactions and stress-coping skills • Be introduced to mindfulness with experiential practice • Create a resiliency plan • Learn the importance of modeling healthy stress coping skills • Understand how stress impacts the youth brain • Learn guidelines for teaching simple stress- reduction techniques
Have a question? Please contact Jennifer Garcia jgarcia@bcoe.org 530.532.5931
Follow-up Coaching Available
Lucy A. Vezzuto, PhD, is a Fulbright Scholar in Education and a Coordinator of the Student Mental Health, Social-emotional Learning and School Climate Initiative for the Orange County Dept. of Education.