Eliminate Barriers to Learning
Contributed by: BCOE Student Programs and Services
Wednesday, November 29, 2017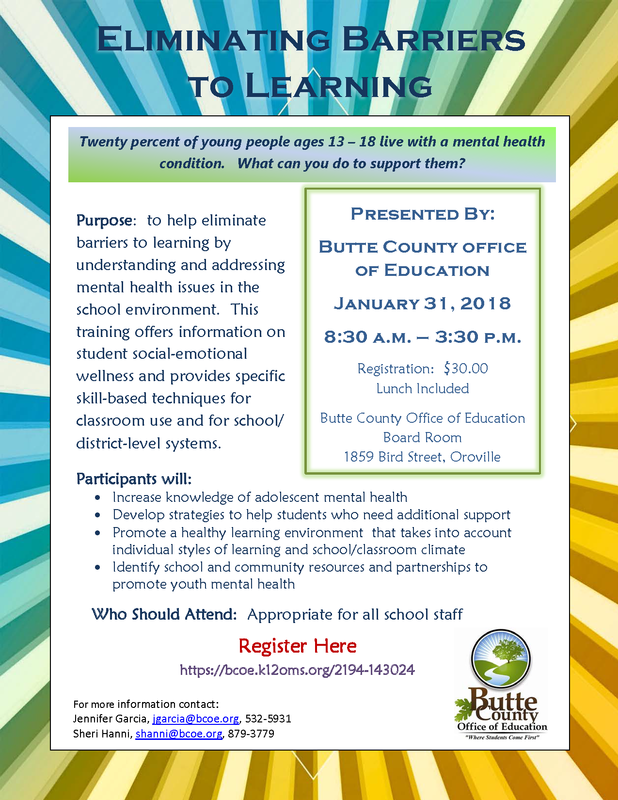 Eliminating Barriers to Learning
Twenty percent of young people ages 13 – 18 live with a mental health condition.
What can you do to support them?
Participate in this training to help eliminate barriers to learning by understanding and addressing mental health issues in the school environment. This training offers information on student social-emotional wellness and provides specific skill-based techniques for classroom use and for school/district-level systems.
Presented By: Butte County office of Education
January 31, 2018
8:30 a.m. – 3:30 p.m.
Registration: $30.00
Lunch Included
Butte County Office of Education Board Room
1859 Bird Street, Oroville
Participants will:
Increase knowledge of adolescent mental health
Develop strategies to help students who need additional support
Promote a healthy learning environment that takes into account individual styles of learning and school/classroom climate
Identify school and community resources and partnerships to promote youth mental health
Appropriate for all school staff.
Register Here: https://bcoe.k12oms.org/2194-143024
For more information contact:
Jennifer Garcia, jgarcia@bcoe.org, 532-5931
Sheri Hanni, shanni@bcoe.org, 879-3779