Butte County Teachers Receive $100 Grants from CalRTA and BCOE
Contributed by CalRTA and BCOE
Thursday, November 30, 2017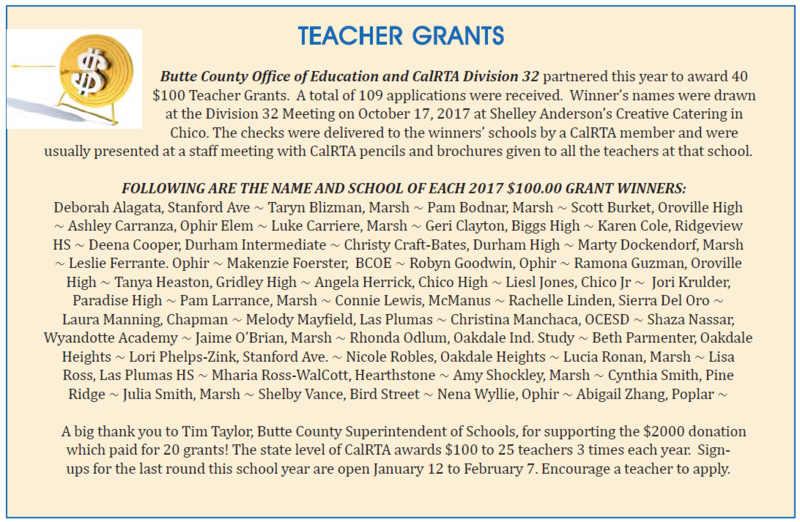 TEACHER GRANTS
Butte County Office of Education and CalRTA Division 32 partnered this year to award 40 $100 Teacher Grants. A total of 109 applications were received. Winner's names were drawn at the Division 32 Meeting on October 17, 2017 at Shelley Anderson's Creative Catering in Chico. The checks were delivered to the winners' schools by a CalRTA member and were usually presented at a staff meeting with CalRTA pencils and brochures given to all the teachers at that school.
FOLLOWING ARE THE NAME AND SCHOOL OF EACH 2017 $100.00 GRANT WINNERS:
Deborah Alagata, Stanford Ave ~ Taryn Blizman, Marsh ~ Pam Bodnar, Marsh ~ Scott Burket, Oroville High ~ Ashley Carranza, Ophir Elem ~ Luke Carriere, Marsh ~ Geri Clayton, Biggs High ~ Karen Cole, Ridgeview HS ~ Deena Cooper, Durham Intermediate ~ Christy Craft-Bates, Durham High ~ Marty Dockendorf, Marsh ~ Leslie Ferrante. Ophir ~ Makenzie Foerster, BCOE ~ Robyn Goodwin, Ophir ~ Ramona Guzman, Oroville High ~ Tanya Heaston, Gridley High ~ Angela Herrick, Chico High ~ Liesl Jones, Chico Jr ~ Jori Krulder, Paradise High ~ Pam Larrance, Marsh ~ Connie Lewis, McManus ~ Rachelle Linden, Sierra Del Oro ~ Laura Manning, Chapman ~ Melody Mayfield, Las Plumas ~ Christina Manchaca, OCESD ~ Shaza Nassar, Wyandotte Academy ~ Jaime O'Brian, Marsh ~ Rhonda Odlum, Oakdale Ind. Study ~ Beth Parmenter, Oakdale Heights ~ Lori Phelps-Zink, Stanford Ave. ~ Nicole Robles, Oakdale Heights ~ Lucia Ronan, Marsh ~ Lisa Ross, Las Plumas HS ~ Mharia Ross-WalCott, Hearthstone ~ Amy Shockley, Marsh ~ Cynthia Smith, Pine Ridge ~ Julia Smith, Marsh ~ Shelby Vance, Bird Street ~ Nena Wyllie, Ophir ~ Abigail Zhang, Poplar ~
A big thank you to Tim Taylor, Butte County Superintendent of Schools, for supporting the $2000 donation which paid for 20 grants! The state level of CalRTA awards $100 to 25 teachers 3 times each year. Sign-ups for the last round this school year are open January 12 to February 7. Encourage a teacher to apply.
Click this link to read the entire CalRTA winter newsletter.