Dec 3 - 9 is National Handwashing Awareness Week
-
Monday, December 04, 2017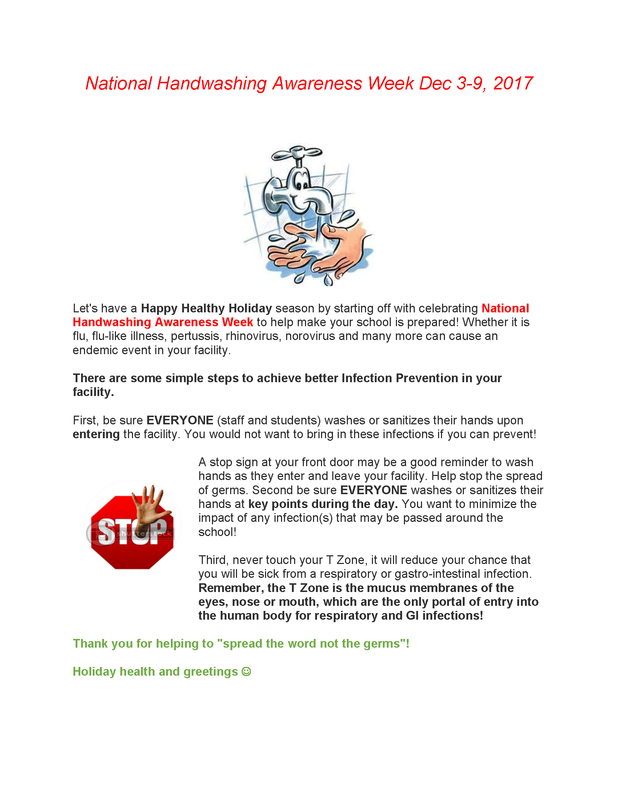 Let's have a Happy Healthy Holiday season by starting off with celebrating National Handwashing Awareness Week to help make sure your school is prepared! Whether it is flu, flu-like illness, pertussis, rhinovirus, norovirus and many more can cause an endemic event in your facility.
There are some simple steps to achieve better Infection Prevention in your facility.
First, be sure EVERYONE (staff and students) washes or sanitizes their hands upon entering the facility. You would not want to bring in these infections if you can prevent!
A stop sign at your front door may be a good reminder to wash hands as they enter and leave your facility. Help stop the spread of germs. Second be sure EVERYONE washes or sanitizes their hands at key points during the day. You want to minimize the impact of any infection(s) that may be passed around the school!
Third, never touch your T Zone, it will reduce your chance that you will be sick from a respiratory or gastro-intestinal infection.
Remember, the T Zone is the mucus membranes of the eyes, nose or mouth, which are the only portal of entry into the human body for respiratory and GI infections!
Thank you for helping to "spread the word not the germs"!
Holiday health and greetings!
Disclaimer: The inclusion of links from other sites are for informational reference, but does not imply BCOE endorsement or support of any of the linked services, products, or providers.