Region 2 Expanded Learning Conference
Contributed by: Gloria Halley
Tuesday, December 12, 2017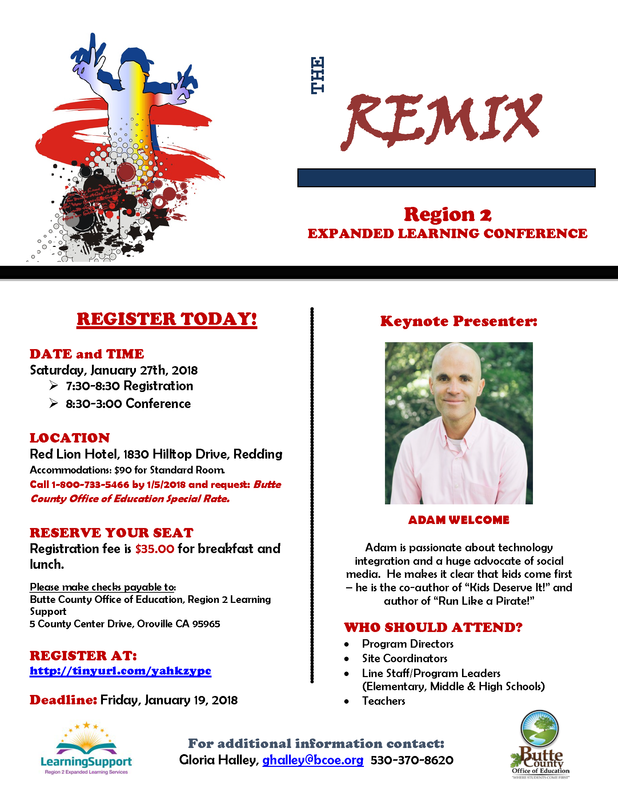 REGISTER TODAY for The REMIX!
Region 2 EXPANDED LEARNING CONFERENCE
Date: Saturday, January 27th, 2018
Time: 7:30-8:30 Registration
8:30-3:00 Conference
Accommodations:
Red Lion Hotel, 1830 Hilltop Drive, Redding
$90 for Standard Room.
Call 1-800-733-5466 by 1/5/2018 and request: Butte County Office of Education Special Rate.
Register to RESERVE YOUR SEAT:
Registration fee is $35.00 for breakfast and lunch.
Please make checks payable to:
Butte County Office of Education, Region 2 Learning Support, 5 County Center Drive, Oroville CA 95965
REGISTER AT: http://tinyurl.com/yahkzypc
Registration Deadline: Friday, January 19, 2018
Keynote Presenter: Adam Welcome
Adam is passionate about technology integration and a huge advocate of social media. He makes it clear that kids come first – he is the co-author of "Kids Deserve It!" and author of "Run Like a Pirate!"
WHO SHOULD ATTEND?
Program Directors
Site Coordinators
Line Staff/Program Leaders (Elementary, Middle & High Schools)
Teachers
For additional information contact: Gloria Halley, ghalley@bcoe.org 530-370-8620