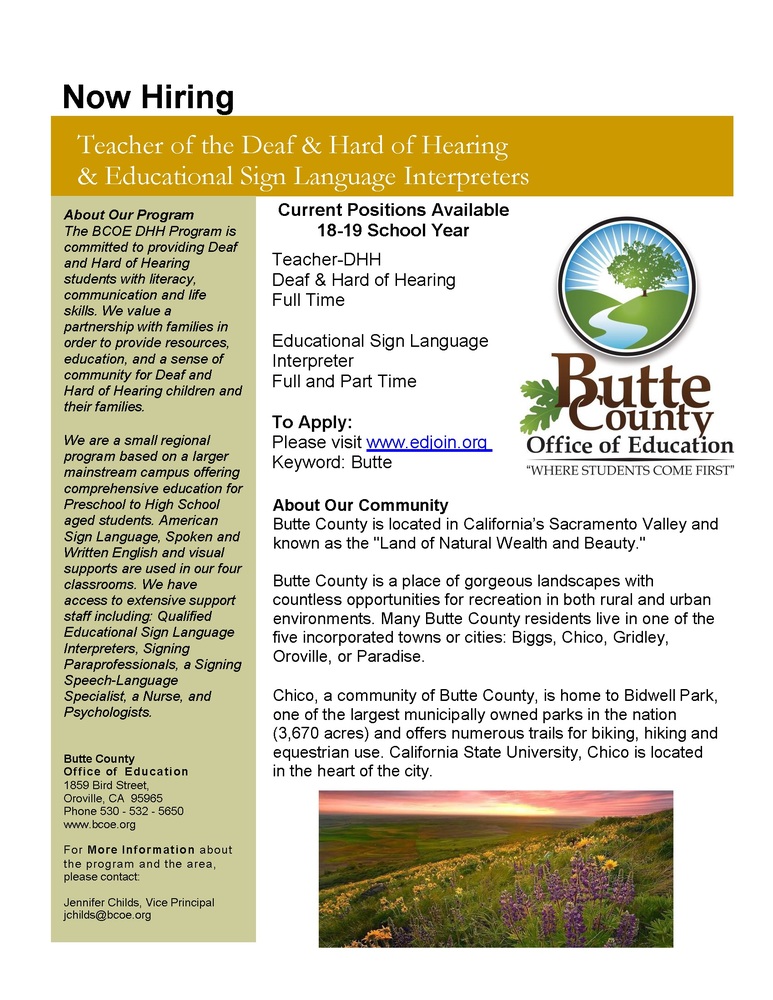 Now Hiring Deaf and Hard of Hearing (DHH) teachers and interpreters
BCOE Special Education
Tuesday, February 06, 2018
Now Hiring
Teacher of the Deaf & Hard of Hearing & Educational Sign Language Interpreters
About Our Program
The BCOE DHH Program is committed to providing Deaf and Hard of Hearing students with literacy, communication and life skills. We value a partnership with families in order to provide resources, education, and a sense of community for Deaf and Hard of Hearing children and their families.
We are a small regional program based on a larger mainstream campus offering comprehensive education for Preschool to High School-aged students. American Sign Language, spoken and written English and visual supports are used in our four classrooms. We have access to extensive support staff including: Qualified
Educational Sign Language Interpreters, Signing Paraprofessionals, a Signing Speech-Language Specialist, a Nurse, and Psychologists.
Current Positions Available 18-19 School Year

Teacher-DHH
Deaf & Hard of Hearing
Full Time
Educational Sign Language Interpreter
Full and Part Time
To Apply:
Please visit www.edjoin.org
Keyword: Butte
Butte County
Office of Education
1859 Bird Street,
Oroville, CA 95965
Phone 530-532-5650
www.bcoe.org
For More Information about the program and the area, please contact:
Jennifer Childs, Vice Principal
jchilds@bcoe.org
About Our Community
Butte County is located in California's Sacramento Valley and known as the "Land of Natural Wealth and Beauty."
Butte County is a place of gorgeous landscapes with countless opportunities for recreation in both rural and urban environments. Many Butte County residents live in one of the five incorporated towns or cities: Biggs, Chico, Gridley, Oroville, or Paradise.
Chico, a community of Butte County, is home to Bidwell Park, one of the largest municipally owned parks in the nation (3,670 acres) and offers numerous trails for biking, hiking and equestrian use. California State University, Chico is located in the heart of the city.