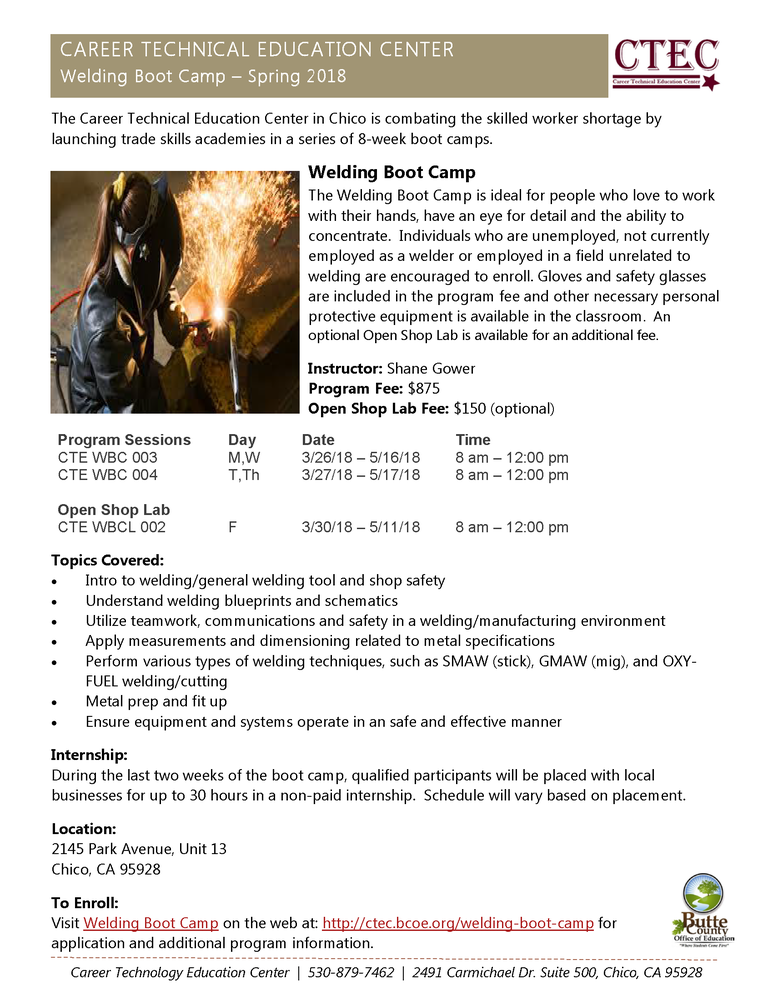 Welding Boot Camp Spring 2018
Contributed by CTEC
Monday, February 26, 2018
CAREER TECHNICAL EDUCATION CENTER Welding Boot Camp–Spring 2018
The Career Technical Education Center in Chico is combating the skilled worker shortage by launching trade skills academies in a series of 8-week boot camps.
Welding Boot Camp
The Welding Boot Camp is ideal for people who love to work with their hands, have an eye for detail and the ability to concentrate. Individuals who are unemployed,not currently employed as a welder or employed in a field unrelated to welding are encouraged to enroll. Gloves and safety glasses are included in the program fee and other necessary personal protective equipment is available in the classroom. An optional Open Shop Lab is available for an additional fee.
Instructor: Shane Gower
Program Fee: $875 Open
Shop Lab Fee: $150 (optional)
Program Sessions Day Date Time
CTE WBC 003 M,W 3/26/18–5/16/18 8am–12:00 pm
CTE WBC 004 T,Th 3/27/18 –5/17/18 8am–12:00 pm
Open Shop Lab
CTE WBCL 002 F 3/30/18 –5/11/18 8am–12:00 pm
Topics Covered:
•Intro to welding/general welding tool and shop safety
•Understand welding blueprints and schematics
•Utilize teamwork, communications and safety in a welding/manufacturing environment
•Apply measurements and dimensioning related to metal specifications
•Perform various types of welding techniques, such as SMAW (stick),GMAW (mig), and OXYFUEL welding/cutting
•Metal prep and fit up
•Ensure equipment and systems operate in an safe and effective manner

Internship:
During the last two weeks of the boot camp,qualified participants will be placed with local businesses for up to 30 hours in a non-paid internship. Schedule will vary based on placement.
Location:
2145 Park Avenue, Unit 13
Chico, CA 95928
To Enroll:
Visit Welding Boot Camp on the web at: http://ctec.bcoe.org/welding-boot-camp for application and additional program information.
Career Technology Education Center| 530-879-7462 |2491 Carmichael Dr. Suite 500, Chico, CA 95928