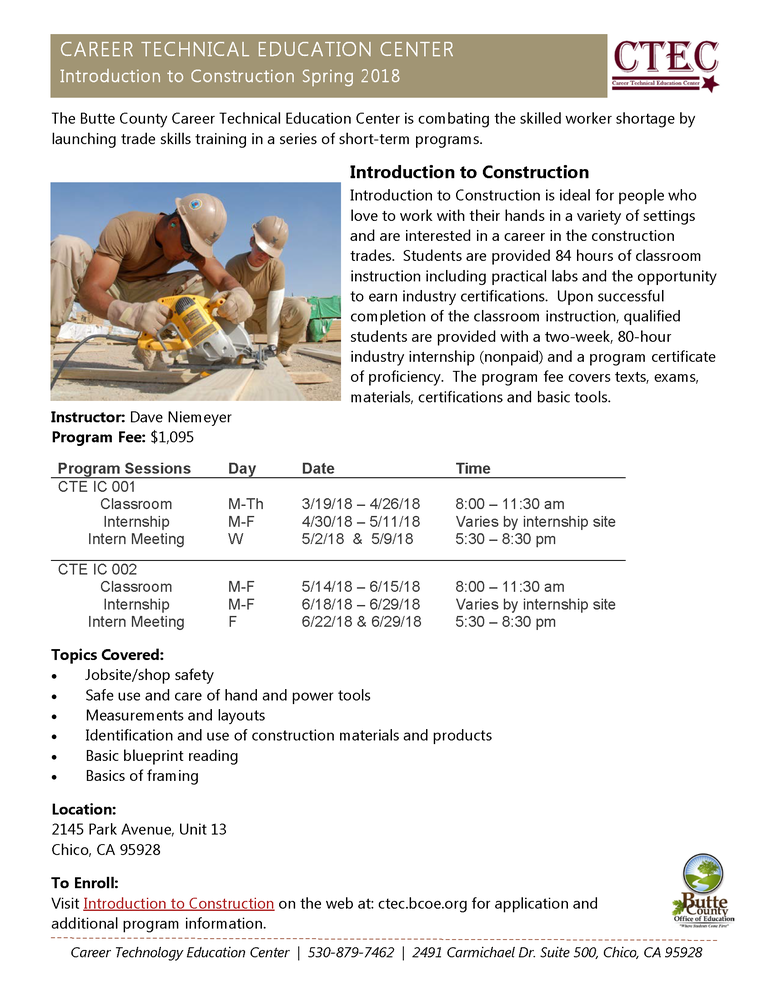 Introduction to Construction Spring 2018
Contributed by CTEC
Monday, February 26, 2018
CAREER TECHNICAL EDUCATION CENTER Introduction to Construction Spring 2018

Instructor: Dave Niemeyer
The Butte County Career Technical Education Center is combating the skilled worker shortage by launching trade skills training in a series of short-term programs.
Introduction to Construction
Introduction to Construction is ideal for people who love to work with their hands in a variety of settings and are interested in a career in the construction trades. Students are provided 84 hours of classroom instruction including practical labs and the opportunity to earn industry certifications. Upon successful completion of the classroom instruction, qualified students are provided with a two-week, 80-hour industry internship (non-paid) and a program certificate of proficiency. The program fee covers texts, exams, materials, certifications and basic tools.
Program Fee: $1,095
Program Sessions Day Date Time
CTEIC 001
Classroom M-Th 3/19/18–4/26/18 8:00–11:30am
Internship M-F 4/30/18–5/11/18 Varies by internship site
Intern Meeting W 5/2/18 & 5/9/18 5:30–8:30 pm
CTEIC 002
Classroom M-F 5/14/18–6/15/18 8:00–11:30am
Internship M-F 6/18/18–6/29/18 Varies by internship site
Intern Meeting F 6/22/18 & 6/29/18 5:30–8:30 pm
Topics Covered:
•Job site/shop safety
•Safe use and care of hand and power tools
•Measurements and layouts
•Identification and use of construction materials and products
•Basic blueprint reading
•Basics of framing
Location:
2145 Park Avenue, Unit 13 Chico, CA 95928
To Enroll:
Visit Introduction to Construction on the web at: ctec.bcoe.org for application and
additional program information.
Career Technology Education Center| 530-879-7462 |2491 Carmichael Dr. Suite 500, Chico, CA 95928