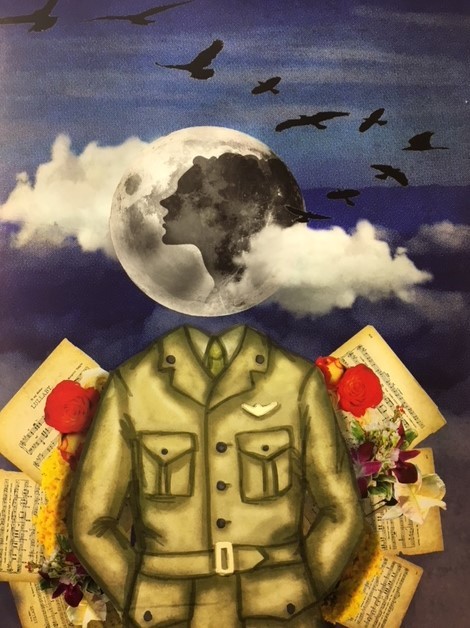 Local Student Artists Honored at BCOE Superintendent's 4th Annual Juried Art Show
Contributed by BCOE District Support Services
Friday, March 02, 2018
CHICO-CA Nearly 130 gifted young artists from high schools throughout Butte County were honored at the 4th Annual BCOE Superintendent's High School Juried Art Show and Reception at the Butte County Courthouse in Chico on March 1st, 2018. The elegant reception was attended by students, parents, educators, and other community members. Appetizers were served and created by the students of Priscilla Burns and the Pleasant Valley High School iHOST FCCLA catering class.
Submitted works are on display at the Butte County Courthouse in Chico (through March 29th) in honor of National Youth Arts Month. Photos of the 3-dimensional entries hang in the show while the actual 3D art is on display outside the Butte County Superintendent of Schools' office in Oroville. "I am impressed by the breadth of artistic talent of students in our county," said BCOE Superintendent, Tim Taylor. We are truly fortunate to have such dedicated teachers who help our students cultivate their creative talents."
The annual art show was organized to showcase the finest high school student art work in the county as part of BCOE's Arts Education Initiative, designed to bring about a renaissance in arts education in Pre K-12. Each participating school was allowed to enter up to ten of their best student art works for judging in six categories.
A panel of Butte County art community members judged the entries based on originality and creativity; composition and design; artistry and skill. The judges this year included Michelle Conn, Oroville Arts Commission, local artist, arts advocate, Pat Macias, president of the Northern California Art Museum, and arts advocate Linda Watkins-Bennet, Action News Now anchor & producer.
First, second, and third place awards were presented to the student winners in six categories: Pencil, Ink, and Charcoal; Paint and Pastel; Mixed Media; Digital Photography; 3-Dimensional Art; and Visual Arts Created with Digital Media.
The Best-of-Show award was given to the student whose art submission garnered the highest score from all of the judges. Olivia Steele, 10th grade, Inspire HS, earned the Best-of-Show award for her piece entitled: "Alive"
This year's Grand Jury selected student art (to be displayed in their annual report) is: "I Am Columbia" by Isabella McMurry, 11th grade, Inspire HS.
Congratulations to all participating students selected by their schools' art department to be recognized for their commitment and focus on developing their artistic skills over time. Thank you to our outstanding panel of judges and to the following for their efforts that made the art show possible: Tim Taylor, Janelle Schindler, Gina Wilson, Jeanette Spence, David Tamori, Jarrod Orr and the staff at the Butte County Superior Court in Chico.