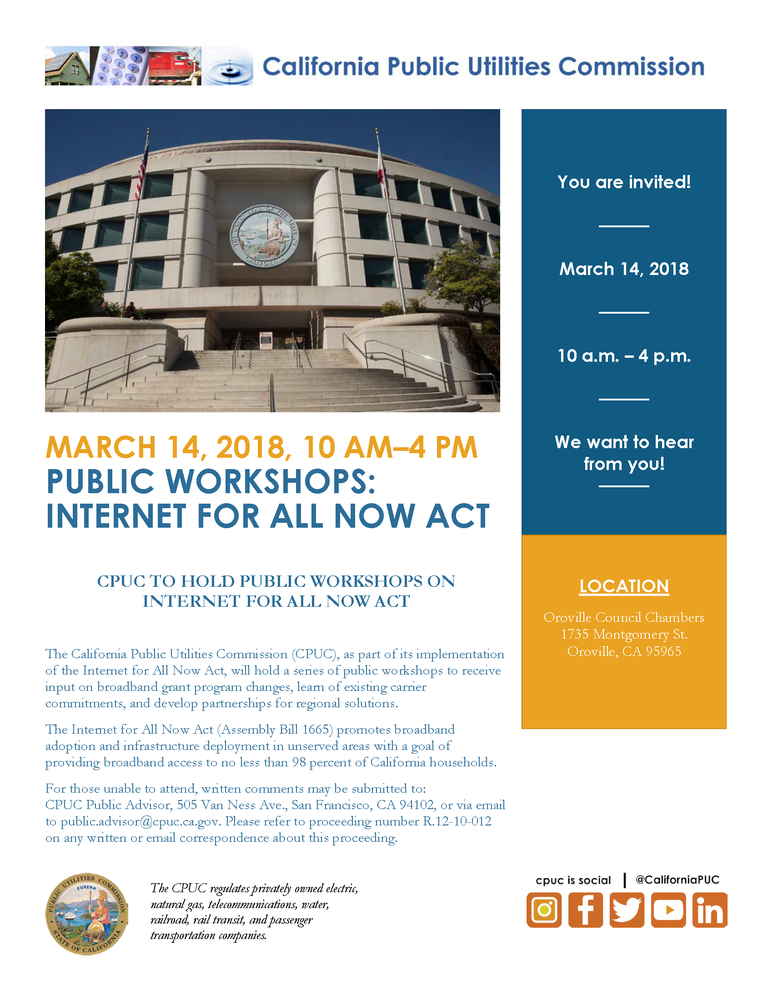 Broadband for All Workshop In Oroville March 14, 2018
Contributed by BCOE District Support Services
Sunday, March 04, 2018
MARCH 14, 2018, 10 AM–4 PM PUBLIC WORKSHOPS: INTERNET FOR ALL NOW ACT
California Pubic Utilities Commission invites you to a public workshop on "Internet for All Now Act"!
March 14, 2018
10 a.m. - 4 p.m.
We want to hear from you!
Location:
Oroville Council Chambers
1735 Montgomery St.
Oroville, CA 95965
The California Public Utilities Commission (CPUC), as part of its implementation of the Internet for All Now Act, will hold a series of public workshops to receive input on broadband grant program changes, learn of existing carrier commitments, and develop partnerships for regional solutions.
The Internet for All Now Act (Assembly Bill 1665) promotes broadband adoption and infrastructure deployment in unserved areas with a goal of providing broadband access to no less than 98 percent of California households.
For those unable to attend, written comments may be submitted to:
CPUC Public Advisor, 505 Van Ness Ave., San Francisco, CA 94102, or via email to public.advisor@cpuc.ca.gov. Please refer to proceeding number R.12-10-012 on any written or email correspondence about this proceeding.
The CPUC regulates privately owned electric, natural gas, telecommunications, water, railroad, rail transit, and passenger transportation companies.
You can also find the California Public Utilities Commission (CPUC) on Twitter, Facebook, Instagram, Youtube and others.
For the flyer, go to http://5il.co/2wim
For the News Release, go to http://5il.co/2win