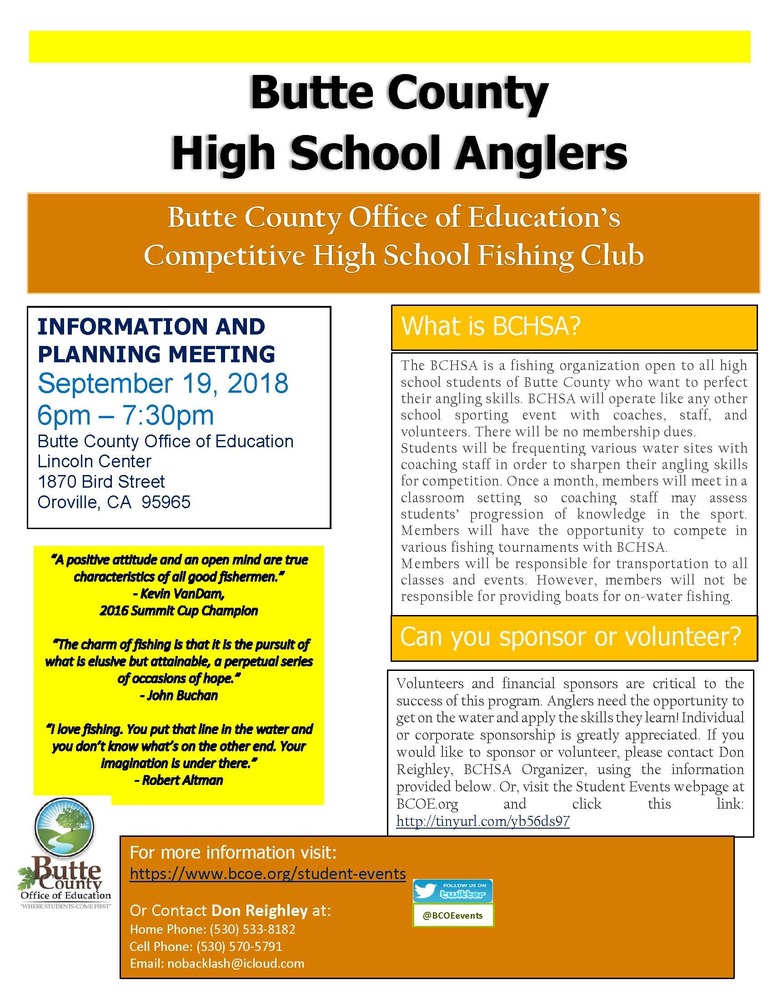 Join the Butte County High School Angler's Club
Mary Ellen Garrahy
Thursday, August 02, 2018
The BCHSA is a fishing club run through Butte County Office of Education open to all high school students of Butte County who want to perfect their angling skills. BCHSA will operate like any other school sporting event with coaches, staff, and volunteers. There will be no membership dues.
Students will be frequenting various water sites with coaching staff in order to sharpen their angling skills for competition. Once a month, members will meet in a classroom setting so coaching staff may assess students' progression of knowledge in the sport. Members will have the opportunity to compete in various fishing tournaments with BCHSA.
Members will be responsible for transportation to all classes and events. However, members will not be responsible for providing boats for on-water fishing.
Volunteers and financial sponsors are critical to the success of this program. Anglers need the opportunity to get on the water and apply the skills they learn! Individual or corporate sponsorship is greatly appreciated. If you would like to sponsor or volunteer, please contact Don Reighley, BCHSA Organizer, using the information provided below. Or, visit the Student Events webpage
INFORMATION AND PLANNING MEETING
September 19, 2018
6pm – 7:30pm
Butte County Office of Education
Lincoln Center
1870 Bird Street
Oroville, CA 95965
For more information, contact Mary Ellen Garrahy, Student Events and Engagement Manager mgarrahy@bcoe.org