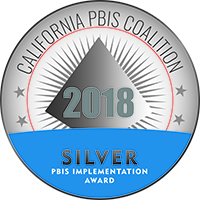 BCOE Schools Recognized as "Silver" Schools by The California PBIS Coalition
Oroville, CA
Thursday, August 09, 2018
The California PBIS Coalition has recognized BCOE schools with the 2018 Silver Implementation Award. BCOE schools recognized were: Hearthstone School, Table Mountain School, BCCS - LEAD and BCCS- Step Up.
PBIS stands for Positive Behavioral Interventions and Supports.
"Schools that are effective in their implementation have (a) more than 80% of their students and staff who can indicate the desired positive behavioral expectations for a given school setting, (b) high rates of positive acknowledgements for contributing to a positive and safe school climate, (c) have more than 70-80% of their students who have not experienced an office discipline referral for a disciplinary rule infraction, (d) a good idea about which students require more intensive behavior supports, and (e) systems for regular review of their school-wide behavior data to guide their PBIS action planning and implementation decision making."
"In addition, since the 1980s, a number of experimental studies have documented the effectiveness of the PBIS framework at the school-wide level. This body of research supports improvements in problem disciplinary behavior, school climate, organizational health, student bullying behavior and peer victimization, and academic achievement."

For more about PBIS, visit the PBIS Colation web site at: https://www.placercoe.k12.ca.us/departments/educationalservices/prevention/cpc/Pages/default.aspx