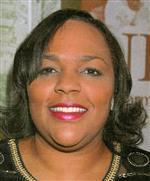 Lori (Speese) Gay to be Inducted into OUHSD's Hall of Fame
Story by Oroville Mercury-Register 8/20/2018
Tuesday, August 21, 2018
Lori, a Las Plumas graduate, now lives in Los Angeles and is the daughter of the late Rev. Lloyd Speese and former Oroville Union High School District trustee Lillaine Speese of Oroville.

"She has worked in the community development field for over 25 years and focused her efforts on rebuilding impoverished communities and creating mechanisms for community empowerment and ownership." -- Oroville Mercury-Register

The Hall of Fame induction dinner: 5:00 p.m. Sept. 15 at Gold Country Casino
The deadline to buy tickets is Sept. 1.
Dinner tickets cost $40 and are available from the Oroville Union High School District. For more information, call Paula Blaney at 538-2300, ext. 1107.

Here is the link to the Oroville Mercury-Register's story that describes Lori's many contributions: https://www.orovillemr.com/2018/08/20/community-development-leader-to-be-inducted-into-ouhsd-hall-of-fame/