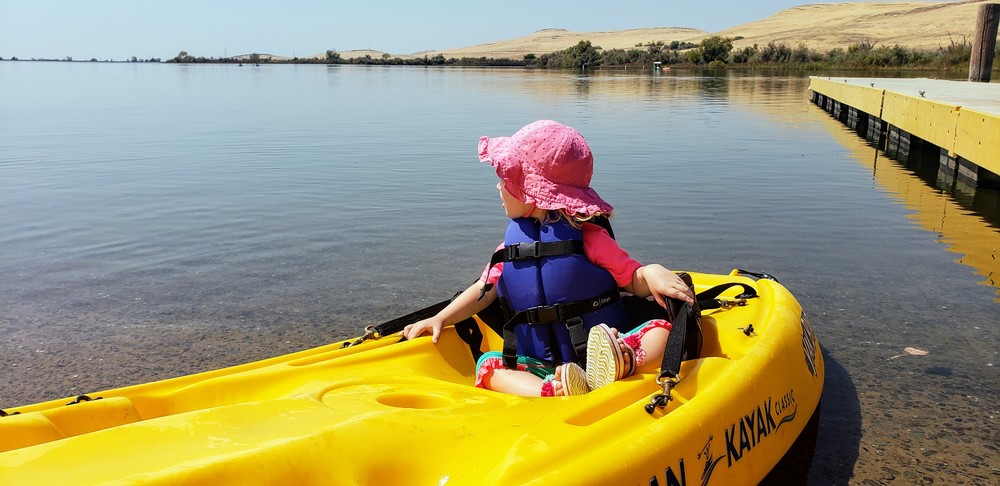 Employee Wellness a Priority at Butte County Office of Education
#ButteCOE Photos/Kara Haddock
Wednesday, September 05, 2018
It's no secret. Happy employees are productive employees, engaged co-workers, and an important part of community, home and family life. BCOE's commitment to employee health includes a number of programs that reward employees for participating in their own wellbeing. One of those programs is a monthly walking challenge with step-goals. Those who meet weekly goals are eligible for gift cards and passes contributed by local businesses. One such pass was to the Forebay Aquatic Center in the Thermalito North Forebay SRA.
BCOE employee Kara Haddock and fiancé Sean put those passes to use this past Saturday afternoon along with their kids, Noah (10) and Kyah (2).
Kara and Sean had never been to the Aquatic Center, so didn't know what to expect. However, Noah had been there on a day camp field trip and was really excited to go back. Kara was surprised by the amount of equipment – kayaks, pedal boats, sail boats, hydro-bikes and more and said that the staff was really friendly and "incredibly helpful in getting us in and out of our equipment. The customer service was excellent."
Noah and Sean picked single kayaks. Kara and Kyah went for a small pedal boat. According to Kara, Noah and Sean "zoomed all over the place with their single kayaks. She said Kyah was okay with the pedal boat but really wanted to swim. And it went something like this:
Kara: "Wow, this water is COLD!"
Kyah: "Not cold mama. It's NICE!"
Everyone had an amazing time and now the whole family can't wait to go back.
And that's one way BCOE's commitment to employee wellbeing ripples out into the world – and into the waters of the Thermalito Forebay.