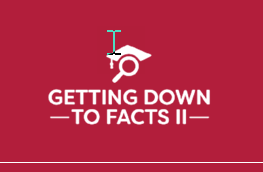 Getting Down to Facts II Released
Policy Analysis for California Education (PACE)
Monday, September 17, 2018
Getting Down to Facts II (GDTF II) is released today! This major PreK-12 education report, produced by leading education policy researchers across the country, reveals that California has made improvements due to recent reforms, but that major system-wide funding challenges and significant gaps in student achievement remain.
Access the full Summary Report here http://gettingdowntofacts.com/summary
The findings contained in the report comprise 36 studies and 19 research briefs on the effects of reforms adopted over the past decade in California's PreK-12 education system. Led by Dr. Susanna Loeb, formerly at Stanford University and now the Director of the Annenberg Institute at Brown University, the GDTF II report is a follow-up to the 2007 Getting Down to Facts report which compelled sweepingchanges to the state's K-12 system.
Dr. Loeb says, "We found that over the last decade California made positive strides in public education by advancing K-12 academic standards and adopting a new funding model, but schools face a great need for policies that address system weaknesses and build capacity. Educators and other practitioners must have the skills, information and materials they need so California's 6.2 million students can succeed."
The four areas of study in GDTF II include student success, governance, funding, and personnel. More than 100 researchers from across the nation examined a variety of reforms including the state's revamped academic standards, transformed models for education funding and accountability, and localized flexibility in finance and overall student success.
PACE Executive Director Heather Hough stressed the importance of GDTF II to the future of California education policy development: "The election this fall will dictate the governance and leadership of this state, and the set of studies in Getting Down to Facts II contains the evidence policy leaders need to determine what is next for California schools and students."
Education Gets Down to Facts Today
Visit the Full Website Here: http://gettingdowntofacts.com/
Learn about GDTF II Researchers: http://gettingdowntofacts.com/researchers
Download the Summary Report: http://gettingdowntofacts.com/summary