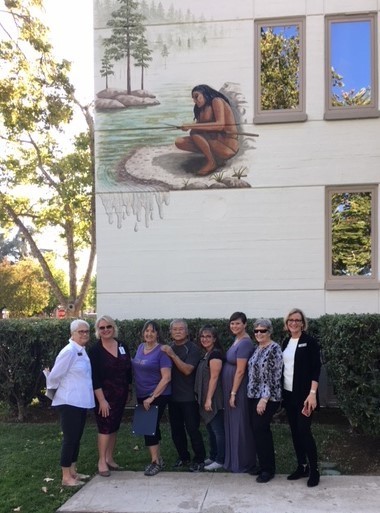 Ishi Mural Dedicated in Oroville
-
Wednesday, October 17, 2018
Oroville, CA -- A newly painted mural of Ishi was dedicated on October 16 in Centennial Park behind Butte County Office of Education. Below the newly dedicated Ishi mural are pictured, left to right: Art Commissioner and Chairperson Machelle Conn, BCOE Deputy Superintendent Mary Sakuma, mural artist Shyla Cook, Art Commissioner and Vice Chairperson David Tamori, Art Commissioners: Heidi LaGrone, Amanda Wentz, Marlene Del Rosario, and City of Oroville Mayor Linda Dahlmeier.
---
About Ishi
In 1911 at the age of 50, an unknown "wild man" emerged from the wilderness into Oroville, or to him, the modern world. Ishi has been the focus of numerous books and films about his life.
---
About the Mural
This project was made possible through the Art in Public Places/ Oroville Beautification Fund. Annually the Oroville Art's Commission and City of Oroville release funds for eligible and qualified artists to create permanent art pieces in the Downtown Historic District of Oroville. The purpose of this fund is to expand the opportunities for citizens and visitors of the City of Oroville to experience public art and other projects resulting from the creative expression of its visual artists in public places throughout the City.
To learn more about Art in Public Places, the 2018 Notice of Available Funds (NOFA), and a brief history of other art around the park, contact Cecilia Carmona at (530) 538-2508.