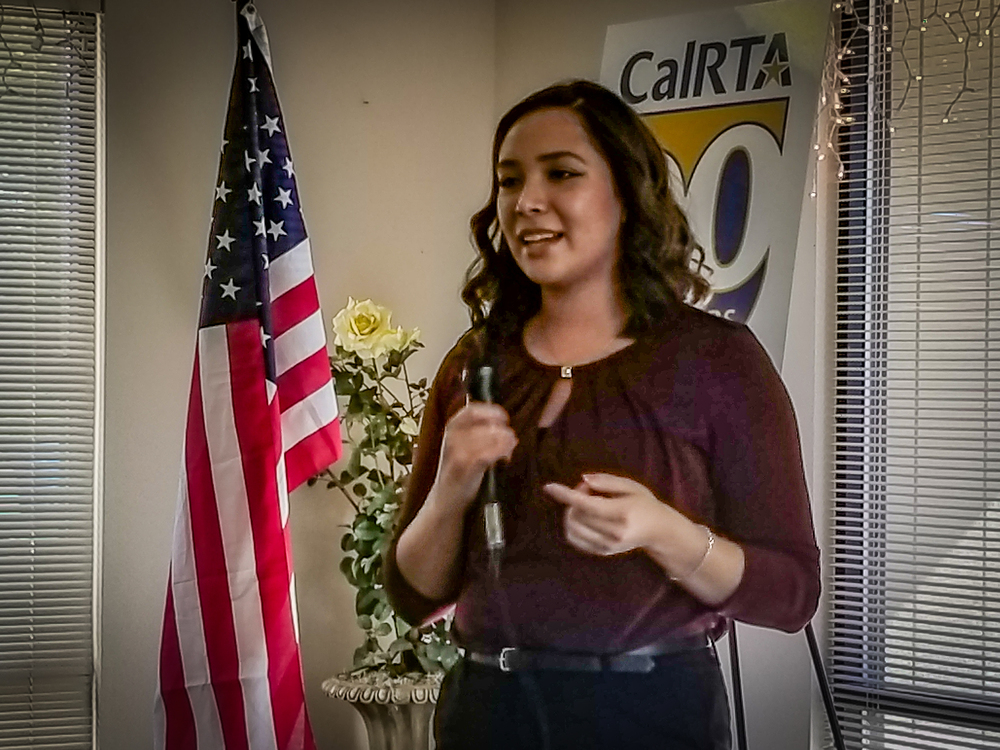 Former Mini-Corps Tutor and Laura E. Settle Scholarship Recipient Speaks at the CalRTA Division 32 Luncheon
-
Wednesday, October 17, 2018
Chico, CA -- At the CalRTA Division 32 luncheon on Wednesday, October 16, Carolina Zavala shared a little about her personal journey to becoming a bilingual teacher.
Carolina is also the 2018 recipient of the CalRTA's Laura E. Settle Scholarship at CSU-Chico.
About Carolina
Carolina Zavala grew up in Moreno Valley, CA with her parents and three siblings. In high school, Carolina was involved in AVID, peer mediation, and varsity soccer cheerleading. She went on to UC-Irvine, and later transferred to CSU-Chico when her family moved to northern California. At CSU-Chico, Carolina joined the California Mini-Corps to give academic support to students from migrant families. (The California Mini-Corps was started by the Butte County Office of Education more than fifty years ago). While working with Mini-Corps students and families, Carolina realized that she loved teaching and decided to dedicate her life to teaching others.
Carolina received her undergraduate degree in May, 2018, when she was also recognized as the outstanding liberal studies bilingual student at CSU-Chico.
About the Laura E.Settle Scholarship
Over the years the Laura E. Settle Scholarship Foundation has awarded millions of dollars in scholarships to California's future teachers.
The LES Foundation provides $3,000 scholarships to 30 colleges annually. Another 13 $500 grants from the affiliated Mabel Outler Scholarship Fund are also awarded to teachers who plan on working in elementary schools. The LES Foundation is funded primarily through contributions and bequests from CalRTA members.
The Foundation was established in the early 1950s in memory of CalRTA's primary founder and first president. Laura E. Settle, a retired Pasadena school teacher, oversaw the creation of CalRTA in 1929 and established its reputation as the primary protector of teachers' pensions. For more about this scholarship, visit: https://calrta.org/scholarships/
About the California Mini-Corps
California Mini-Corps Program, through the auspices of Butte County Schools, was initiated in 1967, patterned after the Peace Corps program. A corps of college students with a rural migrant background was recruited to work as teacher assistant in migrant impacted summer schools.

The Mini-Corps students were role models that hopefully would raise the aspirations of migrant students. A sense of commitment, dedication, responsibility and sensitivity was required of the Mini-Corps participants.

The Mini-Corps students would be personally acquainted with their students and make home visitations to the homes of migrant parents. The program was only a summer program until 1974 when the school year programs were initiated slowly throughout the state. The Mini-Corps Program provides services to all the migrant regions in the summer and school year. Visit https://www.bcoe.org/california-mini-corps to learn more about the California Mini-Corps.

About CalRTA
CalRTA Mission Statement CalRTA's mission is to protect and advocate for retired and active educators' pensions and other retirement benefits and to support education in our communities. How It All Began… CalRTA began in 1929 as the country struggled through the Great Depression. A small group of teachers banded together to fight for better pensions for colleagues who were living in poverty after a lifetime of teaching. In 1929, a retired schoolteacher received a maximum of just $500 a year in pension benefits. Laura E. Settle, CalRTA's founder and president until 1945, drove the dusty highways of the state to help organize teachers in a common cause. All were welcome to join for the annual dues of $1. After several years, CalRTA made its first major breakthrough in 1934, when pensions were finally boosted. Learn more at: https://calrta.org/
Each year, Butte County Office of Education and CalRTA Division 32 partner to provide forty (40) $100 teacher grants to educators in Butte County.